A book about monstrous creatures, an herbal with hundreds of illustrations of medicinal plants and animals, two codices by Leonardo da Vinci that got lost for 150 years: the Frankfurt Book Fair granted me the privilege to get a preview of new amazing facsimiles. Read and choose your favorite!
It's been two years without being able to be there in person. But this year, I was finally back at the Frankfurt Book Fair. And it felt good.
I cannot deny it: compared to my previous experiences in 2019 and in the pre-Covid years, this year's fair was smaller, with only three pavilions instead of the usual six, and with lower attendance. Just to give you an idea: while in 2019 the fair counted more than 302,000 visitors, this year it welcomed just 108,000 participants. Many things have changed in the last few years, the world itself has changed, and we cannot simply ignore that.
Putting ideas and people together is the magic that the Frankfurt Book Fair is still able to create.
What we can do, instead, is to focus on the silver lining. Being able to travel again, meeting publishers that are also good friends of mine, discussing new ideas, and getting a preview of the facsimile editions that will soon be released is something to be truly grateful for. And, after all, putting ideas and people together is the magic that the Frankfurt Book Fair is still able to create.
The Bright Side of a Flight Cancelation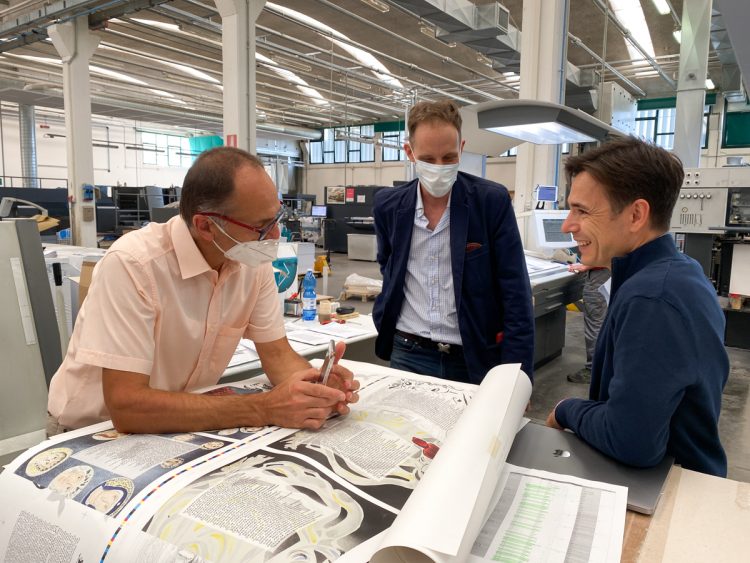 But let me share with you the main highlights of the time I spent in Frankfurt. First of all, I was happy to travel with Giacomo, my colleague and friend from Pazzini Stampatore Editore: his printing company produces facsimiles for some of the publishers we met at the fair. He is also the one who shared the many challenges and joys linked to Facsimile Finder's greatest endeavor of the last two years: the publication of the Divine Comedy – The New Manuscript. Indeed, he helped Facsimile Finder deal with the technical aspects in the production of the book.
This annoyance soon turned into an opportunity for us to spend more time in Frankfurt.
And as the saying "for better or worse" is true both in business and in life, Giacomo and I shared the unexpected news regarding the cancellation of our return flight to Bologna due to a Lufthansa strike. But this annoyance soon turned into an opportunity for us to spend more time in Frankfurt and to visit all the fair's pavilions far and wide.
Walking from one publisher's booth to the other, I was struck by the Spanish CM Editores. They had set up a stand where bookbinders bound books live on the spot: just amazing!
The Latest News about New Facsimiles
Even if, compared to the past, a lower number of publishers attended the fair this year, I was really happy to meet long-time friends and colleagues after such a long time. Among them were Charlotte Kramer (Müller&Schindler), Javier Zalve (Eikon Editores), Omar Ramirez (Orbis Mediaevalis), Romano Aspas (Patrimonio Ediciones), Alberto Sánchez Nieto (Millennium Liber), Paul Struzl (ADEVA), Juanjo Garcia Gil and Pablo Molinero (Siloé), Daniel Diez Fernandez and Adisa Raljevic (CM Editores): what a great group!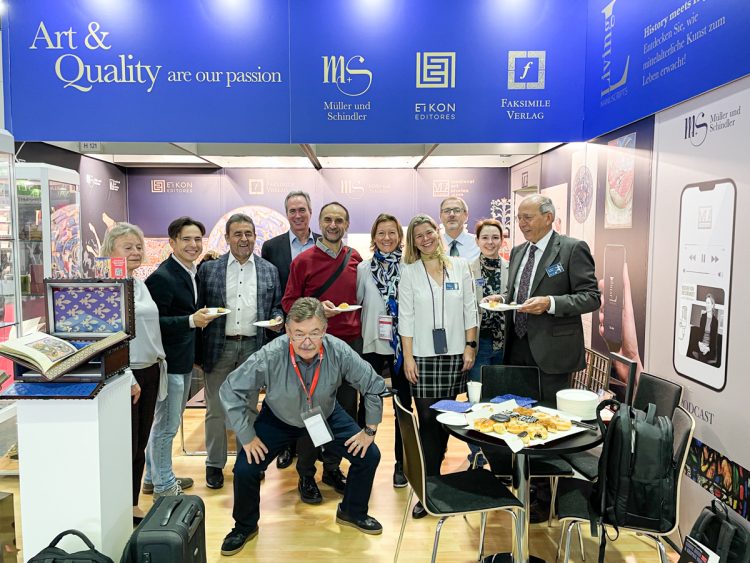 Meeting publishers means for me to get a lot of exciting news regarding facsimiles that are fresh off the press or that will be published soon.
Orbis Mediaevalis presented a beautiful and freshly released facsimile edition of the Sacramentary of Charles the Bald, a manuscript made under the royal patronage of Charles the Bald. ADEVA had already published a facsimile of this codex back in 1972, but the new edition is even more faithful to the stunning beauty of the original, from its rich colors and gold lettering to its purple pages and ornate frames.
Siloé has published a facsimile of a very peculiar manuscript, the 1668 edition of the De Monstris by Fortunio Liceti. This was perhaps the most influential work of the time on the topic of deformities in nature, and surely contributed to the development of the discipline known as teratology, which studies abnormal creatures with a scientific approach.
Müller&Schindler is working on the production of a high-quality facsimile edition of MS Sloane 1975 in the British Library, a medical and herbal miscellany from the late 12th century. The manuscript, which includes three of the most popular medical texts of the time, boasts over 200 miniatures of plants and animals with healing properties.
While visiting Müller&Schindler's booth, Giacomo and I were pleased to notice that the facsimile of the Psalter of Blanche de Castile and that of Ulugh Beg's Book of the Constellation were on full display. Indeed, we cooperated with the publisher to the production of both facsimiles, and we are very pleased with the final result.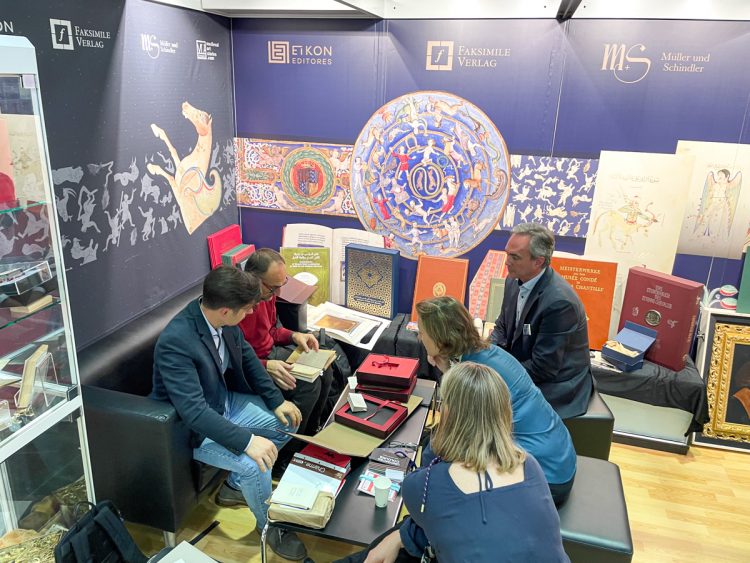 A new facsimile edition of the Madrid Codices in the National Library of Spain was published by CM Editores. The two manuscripts, written by Leonardo da Vinci, somehow went lost for 150 years and came back to light in 1967. Two facsimile editions of this codices had been previously made in 1974 and 2009. This latest edition by CM Editores is even more true to the original thanks to the use of a next-generation laser printer.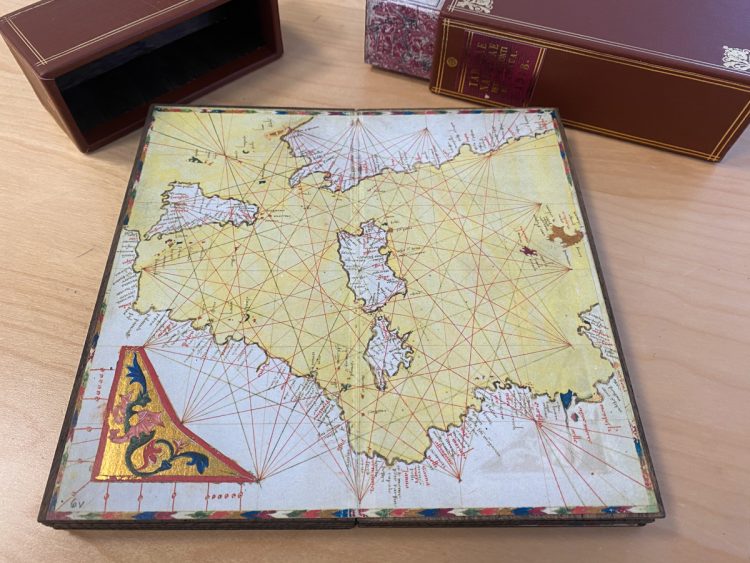 ADEVA produced a beautiful facsimile of the Portolan Atlas of Pietro Vesconte, which is the earliest surviving European atlas of nautical charts, a remarkable object for its format of parchment sheets affixed to thin wooden tablets creating stiff pages that are turned in the manner of the leaves of a book. The original document, made in Venice in 1318, is remarkable for the beauty of its painted decoration.
Not only does Frankfurt's book fair keep me updated on the latest publications in the facsimiles industry, but it also gives me the chance to work as a facsimile production consultant.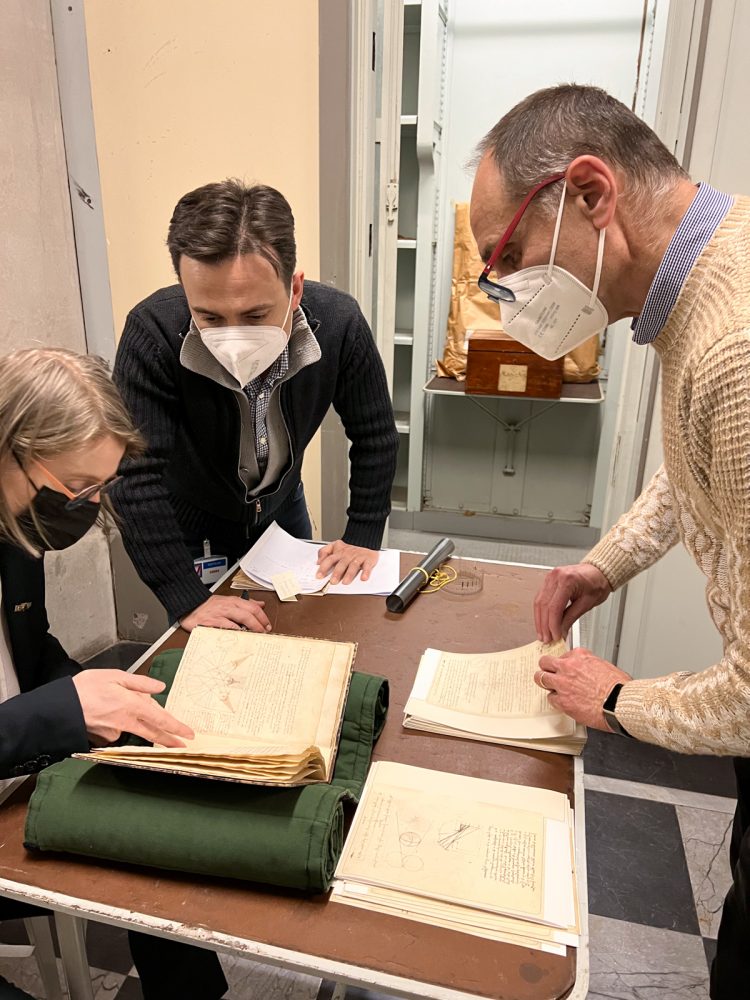 Remember that three years ago Müller&Schindler embarked on the ambitious project of publishing a high-quality facsimile edition of twelve of Leonardo da Vinci's sketchbooks on mathematics, physics, and mechanics? As I was anticipating in this blog post on the Frankfurt Book Fair 2019, I take an active part in this four-year project by supervising the entire facsimile-making process. Back in March this year, this task took Giacomo and I to Paris: we were exceptionally granted the access to the caveau of the Banque de France, where Leonardo's original sketchbooks are treasured. I'll write a special post about this incredible experience!
Beyond Business: Making Bonds and Having a Good Time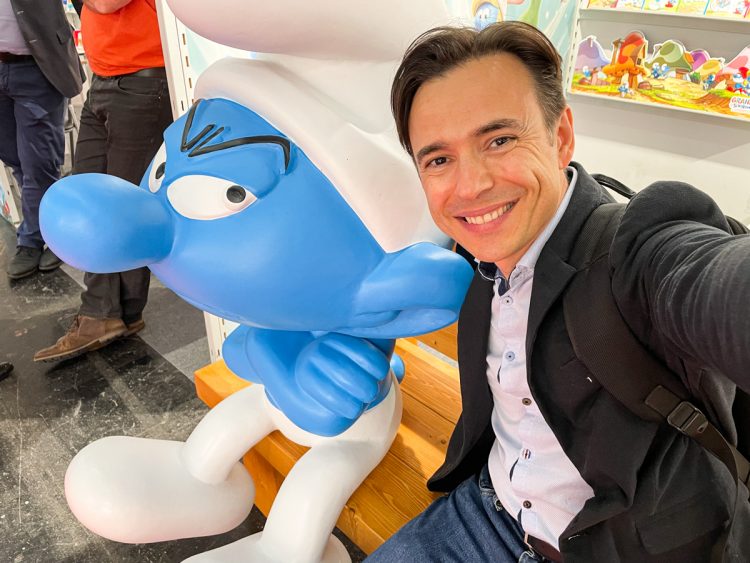 What I like about the Frankfurt Book Fair is that it is always a great opportunity to do business while having a good time and strengthening relationships. The fair is indeed a unique platform for personal encounters – both expected and unexpected!
I know it's hard to believe (that's why I made sure to take a picture), but I met a smurf! He didn't seem to be in a very good mood, though, so I didn't bother him any further. By the way, aren't smurfs supposed to be small creatures? I'm a bit confused…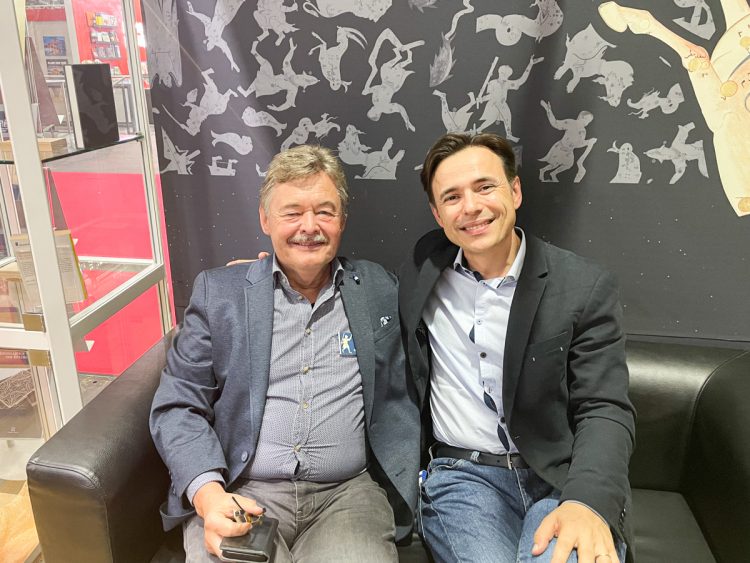 But let's get serious again. While at the fair, I also had the pleasure to meet Frank, who works for Müller&Schindler. He told me the moving story of when he fled from Dresden towards West Germany walking for over 60 hours with his wife and their young daughters. What an incredible testimony! Frank's story touched me deeply, especially after my trip to Berlin with Giulia and the kids back in August. It was the first time for us in the capital of Germany, and I must say that seeing the remains of the Berlin Wall right in front of us, and not only in the pages of a history book, was so meaningful both in terms of historical awareness and for us as human beings.
On Thursday, we threw a surprise birthday party for Giacomo and, as I couldn't find a proper cake, we celebrated by eating dunkin' donuts. I have a soft spot for pastries!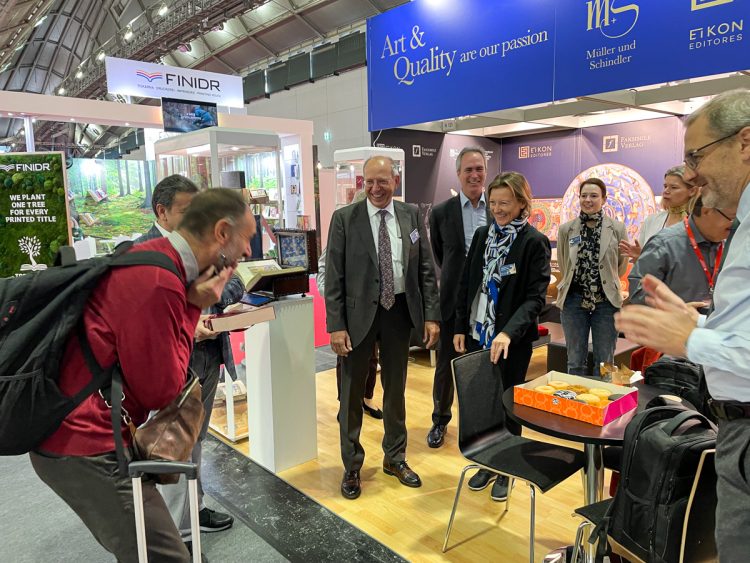 And to top it off, on Friday evening I attended a small party at the Müller&Schindler and Eikon booth, where I tasted exquisite specialities from Spain: jamón serrano y queso (typical Spanish ham and cheese). I can't think of a better way to say goodbye to everyone!