Twelve sketchbooks by Leonardo da Vinci, an augmented reality app, a fairy tale book illustrated by Picasso, and an apocryphal Don Quixote: this year's Frankfurt Book Fair has so many amazing facsimiles to offer that I can't choose my favorite!

After two 20-hour days at the Frankfurt Book Fair, my mind is whirling with thoughts on the best forthcoming editions, and I'm excited to share the latest news with you. My Friday began at 3 a.m. with a direct flight to meet the world's leading facsimile publishers. At 9 o'clock, I was already browsing Müller & Schindler's booth, eager to lay down the details of the facsimile project I will be taking part in, and which I can finally disclose.
Upcoming facsimile edition: twelve sketchbooks by Leonardo da Vinci!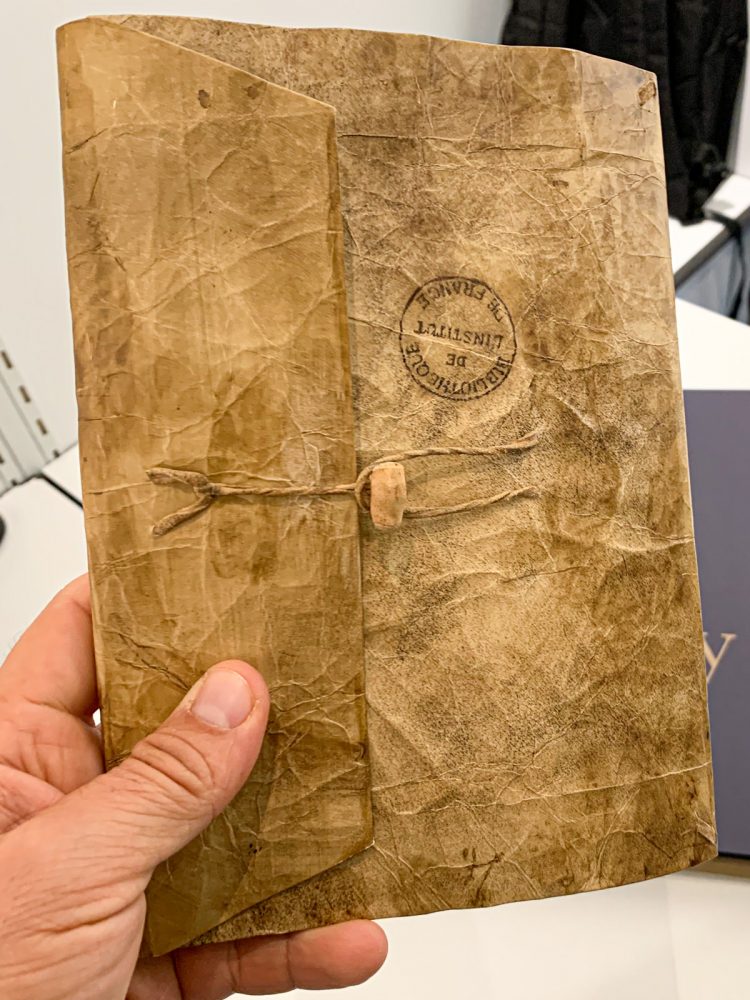 To celebrate the genius of Leonardo da Vinci, who died exactly 500 years ago in the arms of King Francis I of France, Müller & Schindler is planning to publish a high-quality facsimile edition of twelve of his sketchbooks on mathematics, physics, and mechanics, previously released by the Italian publisher Giunti back in 1987. The booklets, which reveal Leonardo's thorough knowledge of science and technology, were taken to France by Napoleon and are now stored in the Institut de France in Paris.
I will have the honor to supervise the facsimile-making process from beginning to end as an advisor, a task that will take me to Paris – where we will color-proof each folio to make sure that the end product is as superb as possible in comparison to Leonardo's original drawings. Because everything in this edition, from the delicate color hues to the 15th-century binding, requires the closest attention to detail, experts from various fields will be involved in the process. It will take four years of work, with three facsimiles being released each year. Right here, on the left, you can see the first sketchbook of the series (Manuscript A).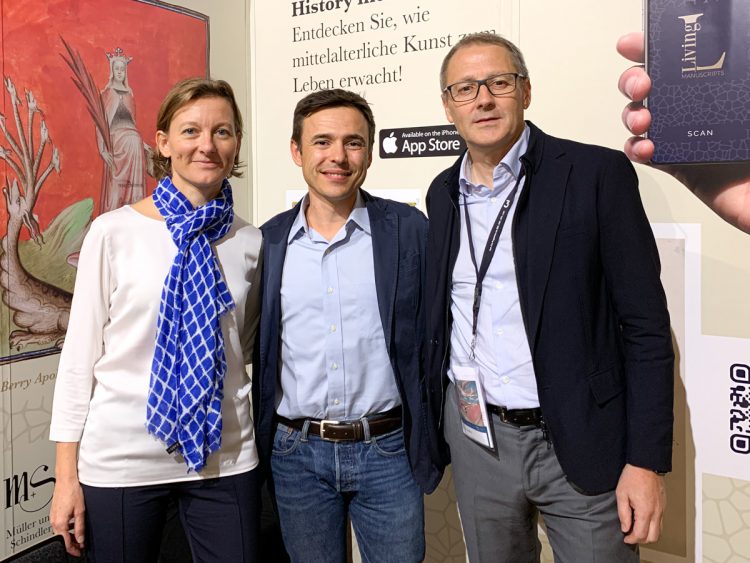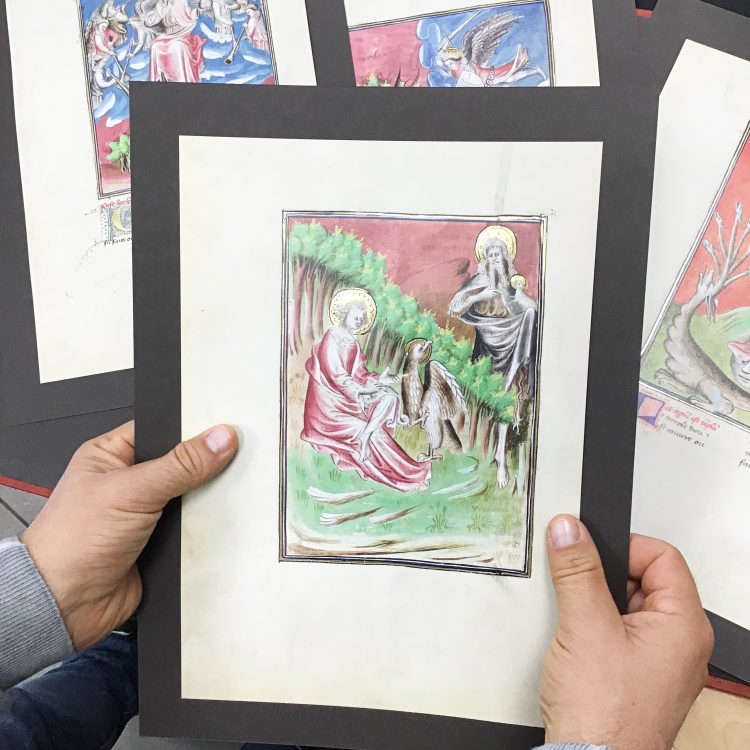 My friends Charlotte Kramer and Javier Zalve from Müller & Schindler also showed me vibrantly colored facsimile folios of the Berry Apocalypse, to be published in the first quarter of 2020. In addition to the new publications, M&S has announced an augmented reality app, Living Manuscripts, which allows more and more people to enjoy the magic of history without even touching a manuscript. Just scan an illustration, and a voice – in German or English – will tell its most interesting details, while visual effects bring art to life. We discussed involving museums and libraries in the content creation process to expand its scope.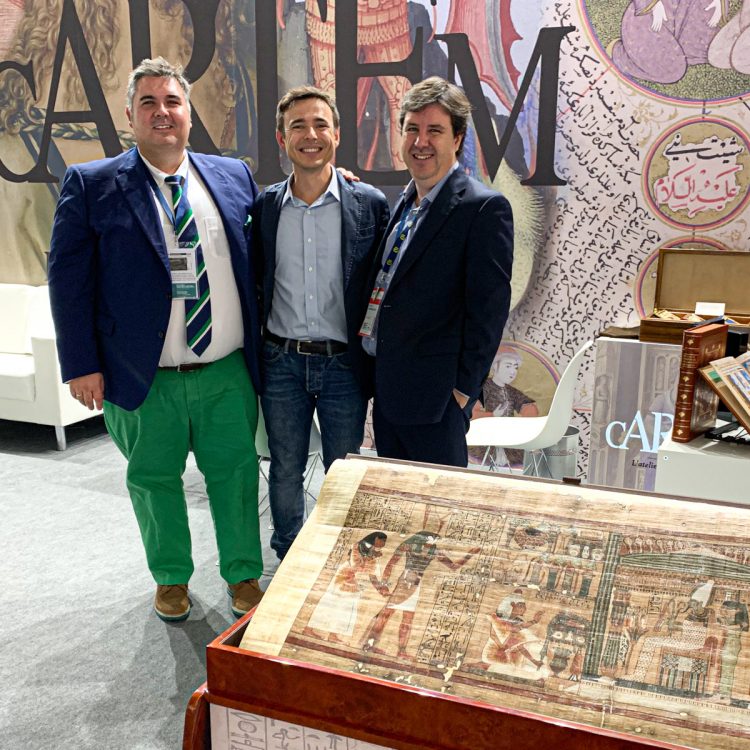 My next stop was the Spanish CM Editores' booth, where I was glad to meet Daniel and Pedro after such a long time. They are soon going to publish a facsimile version of the Speculum Humanae Salvationis kept in the Biblioteca Nacional de España, an anonymous illustrated work of popular theology in rhyming Latin verse that was very well-known in the Middle Ages. Facsimile experts at CM Editores are also working on the Libro de Horas de Federico III de Aragón and a genealogy of Suleiman the Magnificent. CM Editores will publish both volumes in 2021, together with a lesser-known book of fairy tales illustrated by Picasso.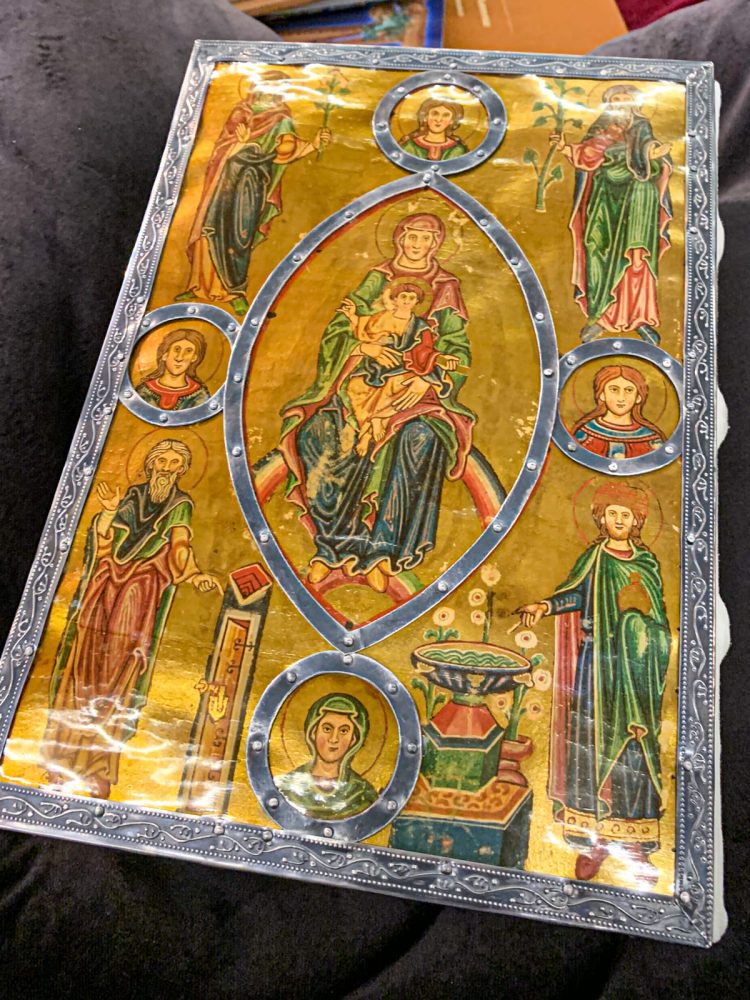 After a short lunch with Gunter Tampe of Quaternio Verlag, we walked over to their booth in the antiquarian book area of the fairground to view and discuss their future plans. What struck me among Quaternio Verlag's latest accomplishments is a new edition of the Bamberg Psalter: the original manuscript binding is covered by a thin layer of transparent bone and Quaternio had to find a composite material suitable to reproduce such rare material. The result is impressive and I'm looking forward to receiving the first copies soon. And what's more, Quaternio is going to publish two of our favorite manuscripts: the Stammheim Missal in February 2020, and the Briçonnet Hours in June 2020 – check out our preview!

While Siloé's publishing plan is a secret – I can only give you a hint: the word "marvel" – Jorge and Alberto at Millennium Liber told me about an upcoming facsimile of an apocryphal Don Quixote edition that supposedly drove Miguel de Cervantes to write the second part of his novel in 1615, after a ten-year break. I'm very excited to see it!

What also caught my glance in Millennium Liber's booth were the masterfully drawn cartoon-like vignettes of Ramon Llull's Breviculum, a 14th-century compendium that will be published as a facsimile in 2020. The illustrations reminded me of the Apocalypsis Johannis, an incunabulum that looks like a contemporary comic book, so I asked Millennium Liber staff to tell me more. Known as the "bearded philosopher", Llull is considered the world's first great Catalan writer who spent his entire life trying to convert Muslims to Christianity by studying Arabic and traveling to North Africa where he worked as a missionary. His teachings were taken up by Thomas Le Myésier, a French canon who commissioned the Breviculum to disseminate Llull's philosophy in French courts of the 14th-century. Le Myésier expressly asked the artist to produce a concise account of Llull's life and philosophy (thus the name breviculum), resulting in a bande dessinée in which characters' dialogues are enclosed in speech bubbles, something undoubtedly exceptional in the Middle Ages.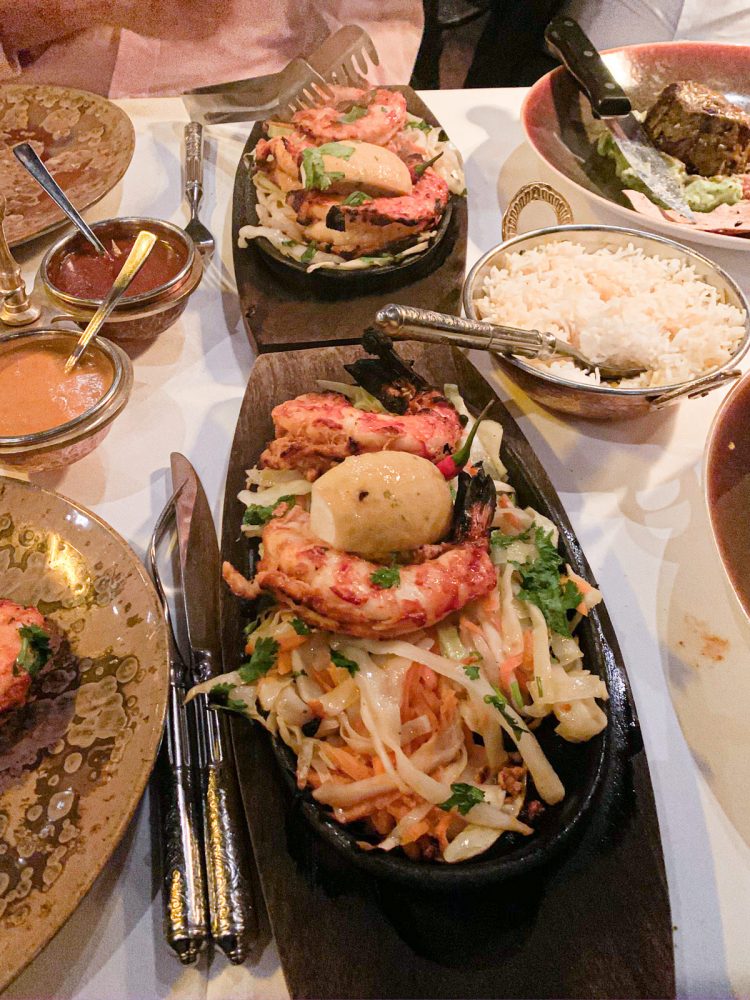 At the end of my visit, I learned that ADEVA is planning to produce two magnificent Carolingian manuscript facsimiles – we'll have more news before the end of 2019. As the lights of the fairgrounds began to dim, and dusk fell on the southern German metropolis of Frankfurt, my publisher friends and I got together to share the latest news. To top the day off, we all enjoyed a tasty dinner in a nearby Thai restaurant – it was a perfect ending to a perfect day. I've never seen such huge king prawns in my whole life!
Thank you everyone for this weekend, and see you next year with even more exciting manuscript facsimiles. Every year in Frankfurt is a different experience, but one thing stays the same: the certainty that there are endless ways to dive into history.