Last week, in exactly 21 hours, I traveled to the BnF in Paris, browsed a wonderful Italian Renaissance manuscript, learned some interesting facts on digitization, had lunch, and took a pleasant walk along the Seine. Finally, at 1:00AM, I was back home. Here's the report on my day at the BnF.
A few days ago I embarked upon a one-day trip to Paris, on behalf of a renowned Italian publisher, to analyze a manuscript that will soon have its own facsimile. The idea of leaving at 4:00AM to catch the plane to Paris and be then back to Italy at 1:00AM – thank you, Wright brothers – seemed a bit stressful, but I was more than happy to travel with Giacomo Cecchetti from Pazzini Editore, one of the leading print-maker in facsimile production in Italy.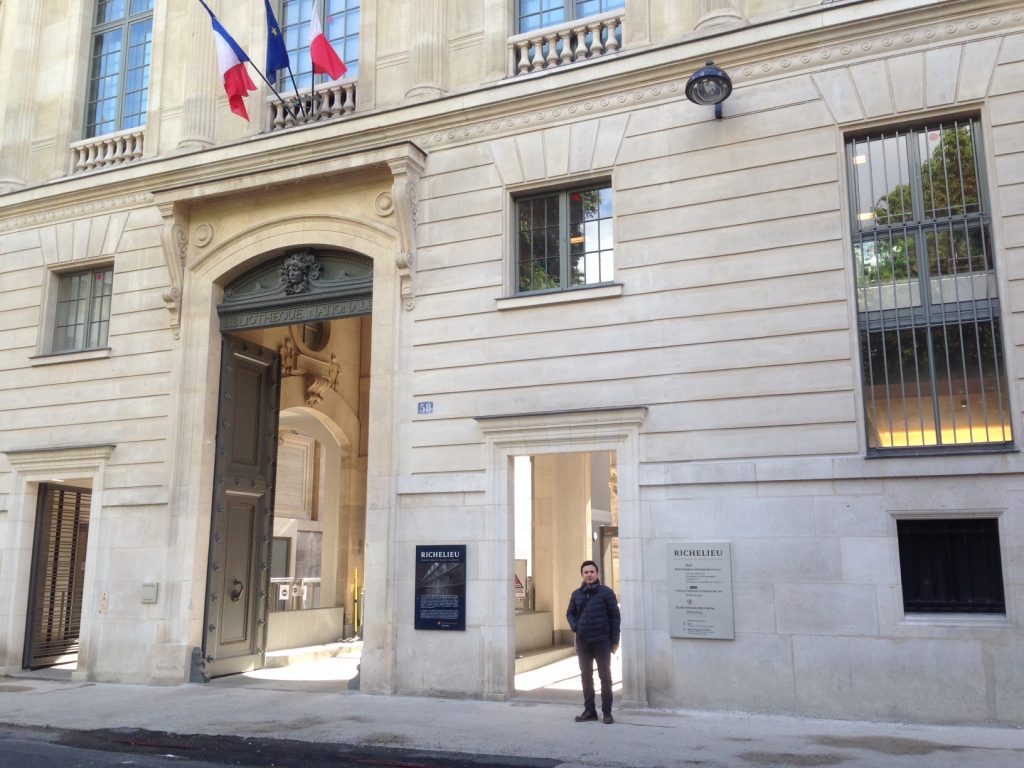 At about 10:30AM we were at the entrance of the Bibliothèque nationale de France being greeted by the kind Véronique who, before taking us to the Salle de lecture, gave us a short tour of the library while providing interesting facts about how the Bibliothèque works.
Lovely Library, Lovely Day, Lovely People
By the time Véronique had made sure we knew just enough to appreciate this beautiful place of knowledge, we found ourselves in the beautiful reading room of the Département des Manuscrits introducing ourselves to the President, who oversees all forms of interactions with the manuscripts.
Me, Myself and the Manuscript
We could not help but notice that, on the workstation reserved for us, there it was: "our" manuscript, produced by Guglielmo Giraldi and Giorgio d'Alemagna  (the same hands of the Dante Urbinate in the Vatican Library).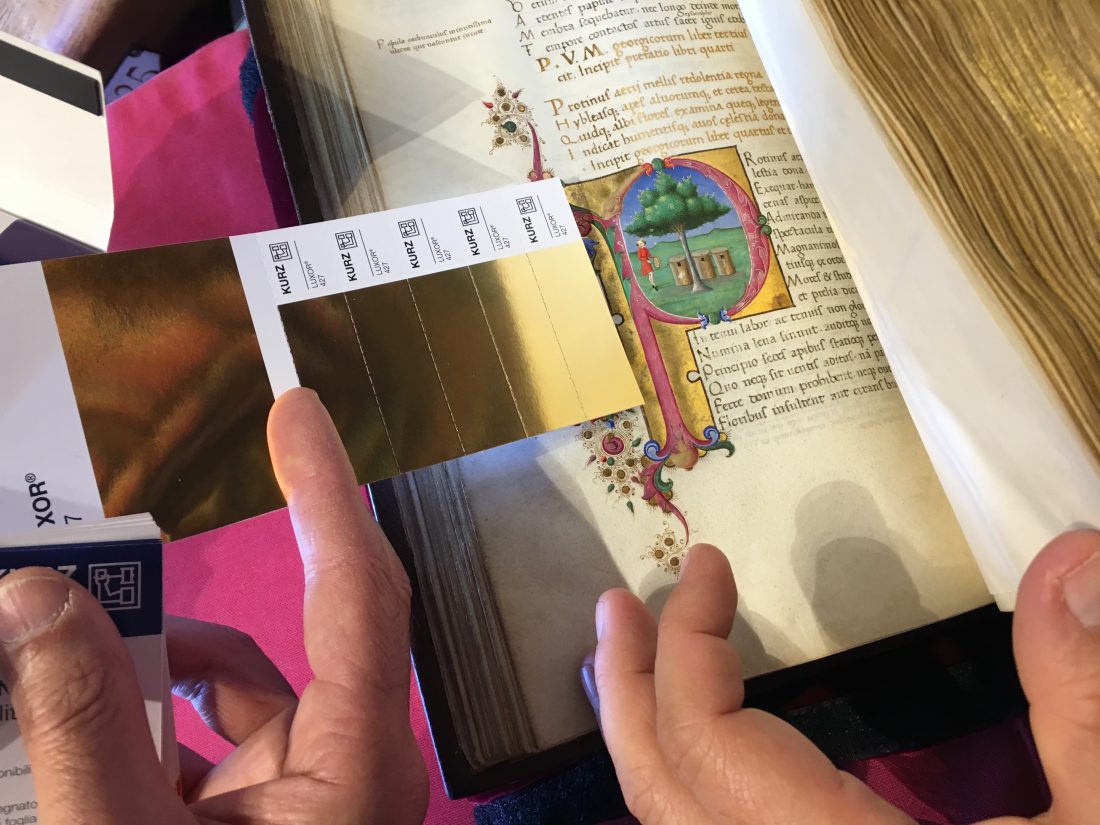 Once we were left "alone" with this jewel of book illumination, we carried out the standard analysis of the manuscript, such as measurements and codicology, and then proceeded to a more detailed analysis, especially in terms of the use and application of gold and colors.
To do that, we had to leaf through 229 folios which, in itself, is a great experience; of course, to preserve the state of the manuscript we were allowed to open it at a very narrow angle, making the operation quite challenging. We encountered 80 illustrations of which 20 were illuminated with shiny gold leaf and 60 colored in delicate tones.
Furthermore, once we were aware of the iconographic apparatus of the codex, we were to closely study the type and shade of gold applied by the artists: this is a fundamental step for a close reproduction of the original.
To be able to study the manuscript in person is a precious experience as it allows to see the actual miniatures, colors, and decoration with no filter or distortion. The BnF usually allows a maximum of three visits to carry out the facsimile production, so we didn't let this chance go to waste, and we spent a significant amount of time comparing our color proofs with the original, in order to make sure the facsimile will be as close as possible to the original.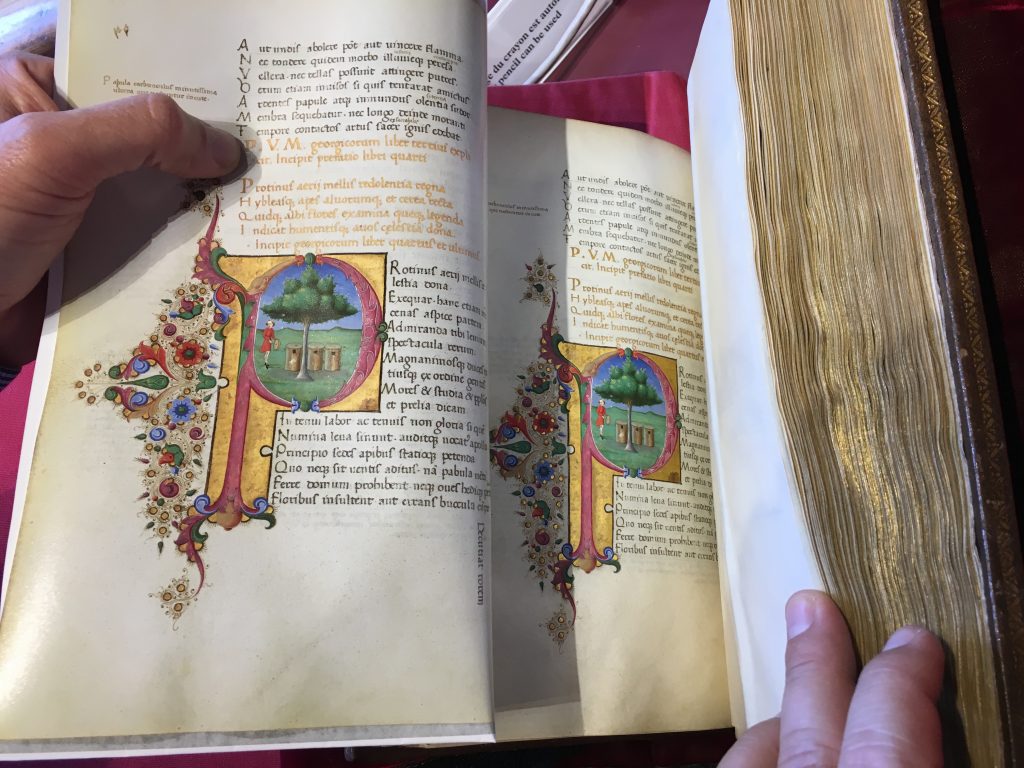 When you are having fun, time flies: we spent 4 hours with the manuscript, and I can safely state that it felt like just a few minutes. After carrying out this detailed analysis, it was time to say goodbye to "our" marvelous codex, so we carefully returned the manuscript to the President of the Reading Room and headed out of the building. Véronique took us to meet Patrick, a key figure of the Départment de la Reproduction, to discuss the digitization of the manuscript, which hopefully will soon be available on Gallica.
Surprise Adventure in the BnF Basement
Patrick had a surprise waiting for us: an all-out tour of the Département de la Reproduction which is located in the basement of the BnF building at Rue de Richelieu, basically just beneath our feet! Being myself and Giacomo two avid amateurs of photography, it was certainly a dream to be able to see how digitization of such fragile and inestimable items is carried out.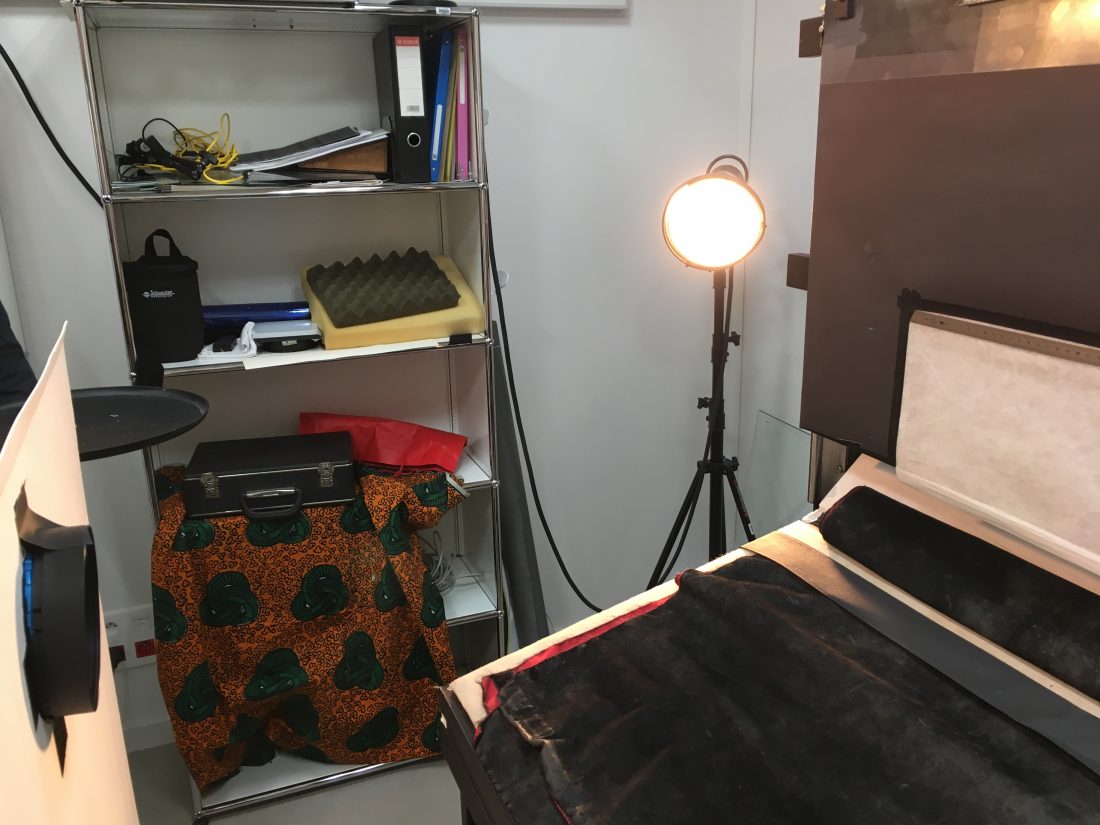 Patrick was kind enough to show us around the department explaining how maps are reproduced, how non-standard formats are photographed, and how items other than manuscripts are dealt with in the photographic process.
It was certainly a dream to be able to see how pictures of such fragile and inestimable items are taken.
It was certainly a dream to be able to see how pictures of such fragile and inestimable items are taken. He focused on the workstation costumed specifically for the photography of manuscripts and showed us how codices – due to their usually complex structure – are placed on a vertical stand with a camera in front of them. The manuscripts' pages are flattened thanks to an aspiration system that gently gets rid of the parchment cockling.
The technology involved in the process is outstanding: the BnF technicians use a camera which, despite the non-flat nature of an open book, manages to go past the curve of the page photographing the manuscript down into the gutter. We were even shown how to take picture of illuminated miniatures, using a panel that reflects the light onto the gold leaf and provides an even lighting up of the miniatures.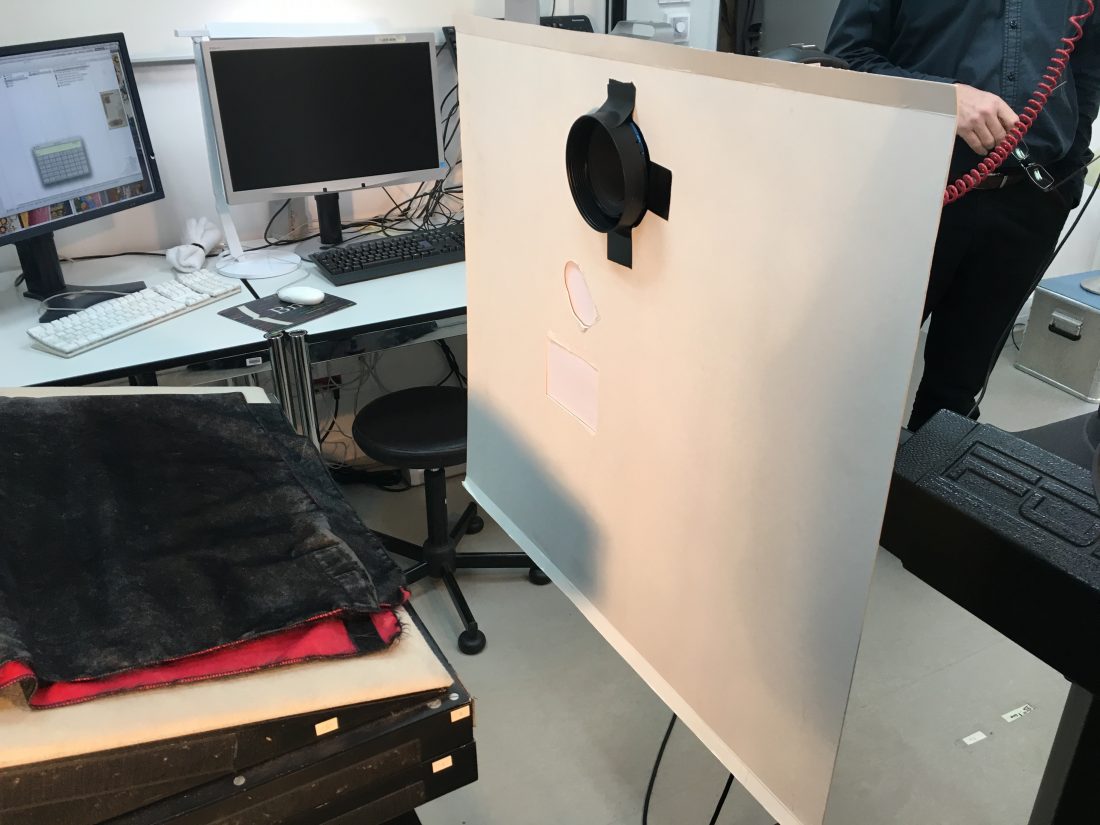 On our way out we also visited the Labrouste reading room which still keeps its original splendor and is truly majestic! So we said our goodbyes to the kind Véronique and Patrick – who we thank for their precious time – and we left the beautiful BnF behind, certain that we will return soon.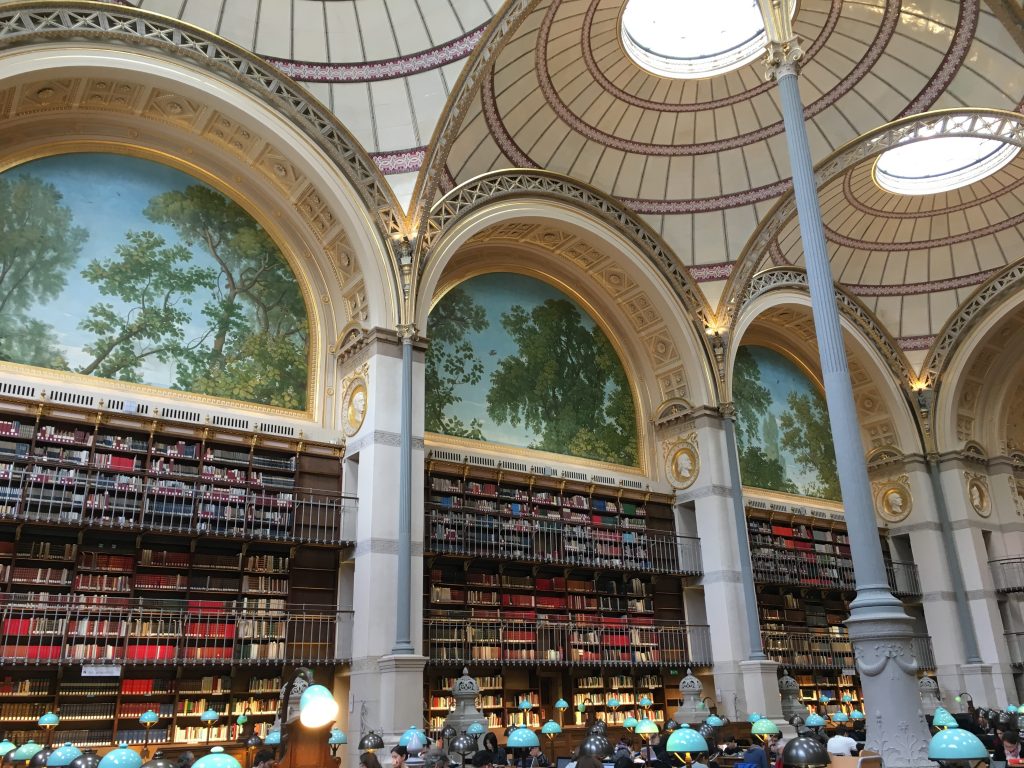 It's Never Too Late to Have Lunch
As we left the library we realized that, while our heads and hearts were full of new information and happiness, the same could not be said for our tummies: it was 4 PM and we had skipped lunch! We could not leave Paris without having a bite, so we stopped in a typical French brasserie nearby and, with a bit of time before the flight, we had a short walk along the Seine. After that, it was time to go, so we headed to the airport, and left Paris hoping to go back, perhaps for a little more than a few hours!
So, fellow manuscript and facsimile lovers, here is my journey for you, I hope you enjoy reading it as much as I enjoyed living it!
Subscribe to Our Newsletter