Which illuminator gave life to Charles V's military achievements through painting? An Alumina article sheds new light on a collection of 16th-century parchment leaves kept in the British Library.
The British Library in London conserves a nineteenth-century album, shelf-marked Add. MS 33733. It contains thirteen illuminated parchment leaves from the sixteenth century, twelve of which are illustrated by full-page miniatures depicting episodes concerning the reign of Emperor Charles V of Habsburg (1500–1558).
Each one is accompanied by a short four-line explanatory note in Spanish, written inside a cartouche on the verso of the preceding leaf. The first parchment leaf has only the cartouche with the quatrain on the first miniature on the verso.
One summer night in 1593 the young prince Philip, son of the king of Spain Philip II, was waiting impatiently for the gifts that had arrived from Italy and that Bernardino Maschi, the ambassador in Madrid of the Duke of Urbino Francesco Maria II della Rovere, was supposed to deliver to the El Escorial, where the royal family was staying to escape the summer heat in the capital.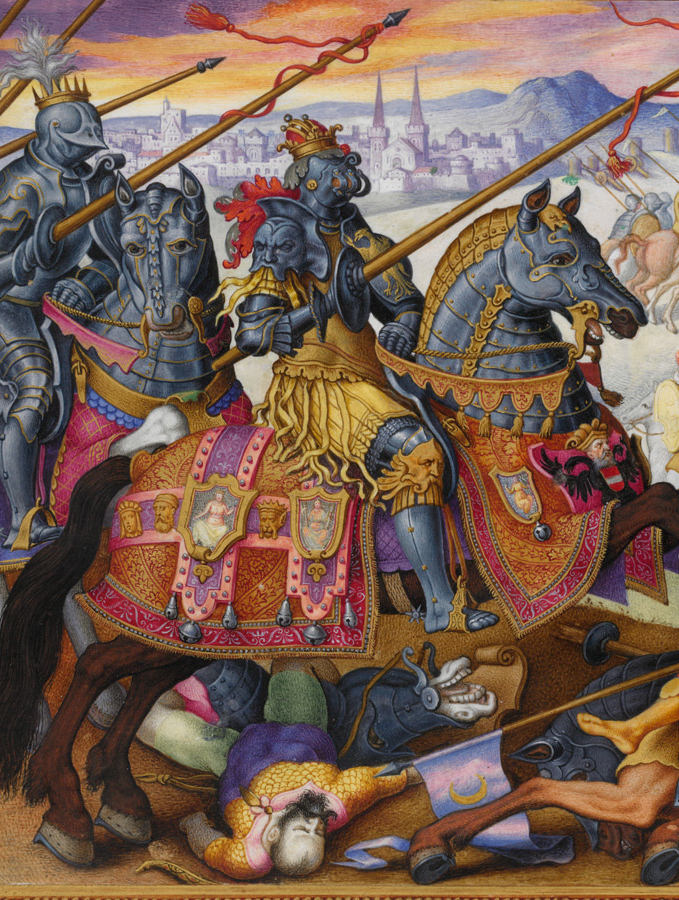 Among the gifts the ambassador was carrying for the little prince was a silver model of a citadel, some compasses and other tools for drawing forts, a bronze hunting tool, and "a book of certain facts about the emperor Charles that his ancestor had illustrated well".
The latter is the illuminated manuscript that is now at the British Library. The miniatures it contains had at length been attributed to the Croatian illuminator Giulio Clovio but they were actually done by Simonzio Lupi da Bergamo.
This was recently confirmed by the laudable archival research done by Almudena Pérez de Tudela, conservator at the El Escorial, who, reconstructing the Della Rovere family's artistic relationships with the Spanish court during the reign of Philip II through a close examination of the epistolary correspondence conserved in the National Archives in Florence, found some important documents that were conclusive enough to prove the Roveresque origin of the Triumphs.
Text written by Elena de Laurentiis for Alumina — Pagine Miniate.
Subscribe to Alumina today!