You don't need to understand Anglo-French biblical verses to read this bible: written and illuminated in the 14th century, the codex features dozens of powerful illustrations.

Unlike many illuminated manuscripts, the words illustrate the pictures instead of the other way around. The iconographic apparatus of the Holkham Bible overflows with details from the medieval time, such as technological developments and London landmarks.
Unlike later manuscripts which very often features heavy ornamentation, the Holkham Bible lacks the gleaming gold and silver, indeed, the artist chose to use a form of tinted wash which was popular in earlier manuscripts. The subtlety and naturalistic poses echo the art of Italian fresco painting rather than of the stylized figures of medieval illumination.
Diapering Technique and Time-lapsed Scenes
The iconographic apparatus of the Holkham Bible exhibits an outstanding rendition of drapery, textiles, and clothing, presenting diamond-patterned backgrounds – created with the diapering technique – that feature flowers and oak-leaves painted in red.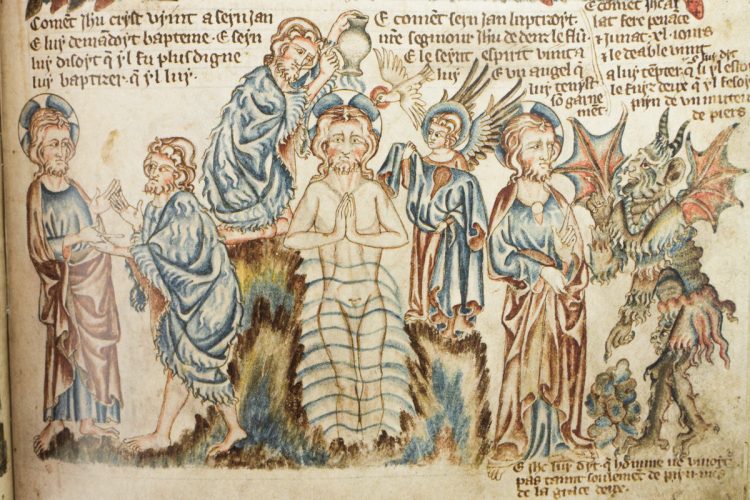 It is worth noticing that the artist chose to enhance the dramatic nature of the story by conflating events into a single scene thus heightening the dramatic impact. An example of this technique is the representation of the third, fifth, and sixth day of the creation as if they were all taking place simultaneously.
Populist Audience and Unknown Commissioner
The Holkham Bible, despite being a bible, betrays a populist approach in terms of the scenes the artist chose to paint. It seems certain that he did not use any pre-existing model, choosing to combine several sources such as sacred scriptures, entertaining details from the mystery plays, episodes from an Anglo-Norman account of Christ's childhood, and Petrus Comestor's influential twelfth-century Historia Scholastica.
The selected stories seem to appeal to the common people rather than to an aristocratic audience, and among the scenes are: Jesus tricking his master by doing all his work with a miracle and Herod peeping down Salome's skirt.
It is unclear who was the commissioner of the work. What is certain is that the manuscript was in the possession of the library of Holkham House – after which the manuscript is named – until it was moved to the British Library.
Gothic Script
The Holkham Bible features a gothic script, namely Gothic Textura. Typical of the script are the two forms of r, sharp, straight, angular lines, and the use of abbreviations. It seems clear that the words were added after the painting stage, the opposite of what manuscript production usually required. The text is written in Anglo-Norman with occasional words and sentences in English.

---
---
NEW WEEKLY VIDEOS