The prolific imagination of Dante Alighieri founds its counterpart in the beautiful images crafted by Pacino di Bonaguida in the first Divine Comedy ever illuminated.
Soon after Dante's death, Pacino di Bonaguida began illuminating the Comedy, visualizing the captivating events that the author described and feeding the demand for illustrated copies of what was quickly becoming a best seller among Florentine citizens.
Some Divine Comedy manuscripts simply feature initials filled with narrative scenes at the beginning of each of the three sections, but the Dante Poggiali (ms. pal. 313) contains an abundance of such images.
The groundbreaking visual iconography developed for representing Dante's narrative set a standard for the later artists who illuminated this popular text well into the 15th century.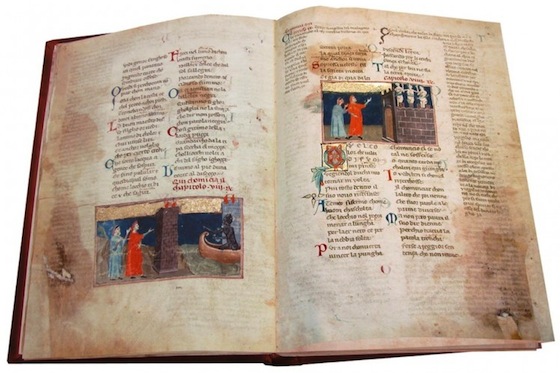 The Dante Poggiali (ms. pal. 313) is written in littera textualis. The production date might be between 1333 and 1345, or maybe 1350. It's considered to be the first illustrated Divine Comedy ever produced and it's the the only surviving manuscript of its kind before 1350 of "The Divine Comedy". The glosses are by Jacopo Alighieri, son of Dante.
In case you missed it: check out the beautiful gallery of Pacino di Bonaguida's Divine Comedy and find out all the facsimile editions available on Facsimile Finder!
It was produced in the workshop of Pacino da Bonaguida, in Florence, with tempera, gold leaf, and ink on parchment. A lesser-known painting star of the 14th century, Pacino took inspiration from Giotto and ran with it in wholly new creative ways, heretofore unseen in its time.
Pacino di Bonaguida
Twentieth-century scholars have reconstructed Pacino da Bonaguida's career, based upon his only known signed painting: an altarpiece in the Accademia Gallery in Florence. After examining many paintings, one scholar in the 1930s rescued Pacino from obscurity; based on close similarities in style, he attributed many paintings to Pacino.
Pacino spent his entire career in Florence, where, in addition to altarpeices, he painted miniatures and decorations for illuminated manuscripts.
Pacino is now considered the inventor of miniaturism, a style distinguished by a clear organization of the painting surface into multiple small-scale scenes.
On display in North America
Recently on display at the Getty (Florence at the Dawn of the Renaissance: Painting and Illumination, until February 10th, 2013), the manuscript is now traveling towards Toronto where will be on display at the upcoming exhibition Revealing the Early Renaissance: Stories and Secrets in Florentine Art at the Art Gallery of Ontario. March 16 – June 16, 2013).
Text courtesy of Getty.edu (parts)