Did you ever wonder what Medieval painters used as models? Most of them had never seen exotic animals, and Gothic letters were hard to sketch by memory. One of Milan cathedral's first architects, Giovannino de' Grassi, provided them with a model book so splendid it became a work of art in its own right. Scroll down to see the video!

If you ever had the chance to roam the streets of Milan — or even just watch the news about Italy in the past few months — you must have caught a glimpse of the Duomo, an imposing marble cathedral whose steeples seem to reach out for the clouds.
How else could Medieval painters study leopards, lions, and gazelles in their natural environment?
Imagine witnessing the start of the cathedral's construction, roughly in the 1380s, when Duke Gian Galeazzo Visconti worked together with the best artists of his epoch at a project worthy of the continent's latest artistic trends, to symbolically place his State among the great European powers of the time.
Among the engineers who helped realize the Duke's dream was Giovannino de' Grassi, who produced the design for the first pillar capital and many other details, like bas-reliefs, pinnacles, and marble carvings on the church's gigantic windows.
A Nature Reserve on Parchment
Giovannino de' Grassi was not just a gifted architect and sculptor, but also such a talented illuminator that Duke Gian Galeazzo Visconti entrusted him to decorate one of his most lavish codices, the Visconti Book of Hours. De' Grassi also went down in European art history thanks to a model book that proved an invaluable tool for the painters of his generation.
Its 62 pages, filled with 77 nature drawings and 24 letters of the alphabet in superb quality, were often used individually by artists who desperately needed a model when representing animals they had never seen — and probably never would lay eye on — in their lifetime. This is why Giovannino de' Grassi portrayed animals' species-specific behaviors.
Gothic letters are filled with musicians, angels, and extremely realistic lions or bulls.
To depict animals as realistically as possible, it was necessary to provide the artist with a template that was uniform enough to be clearly identified by each viewer.
Various beings are shown on the pages of the manuscript. There are sheep and lions lying side by side, ostriches, porcupines and monkeys, innumerable bird species, mice, a peacock proudly boasting its plumage, a hare, deer, cheetahs, and even a male lion devouring a pray's head.
However, the groups of people perfectly executed by Grassi are also particularly interesting. We see women playing lyre or reading together, and a sailing ship.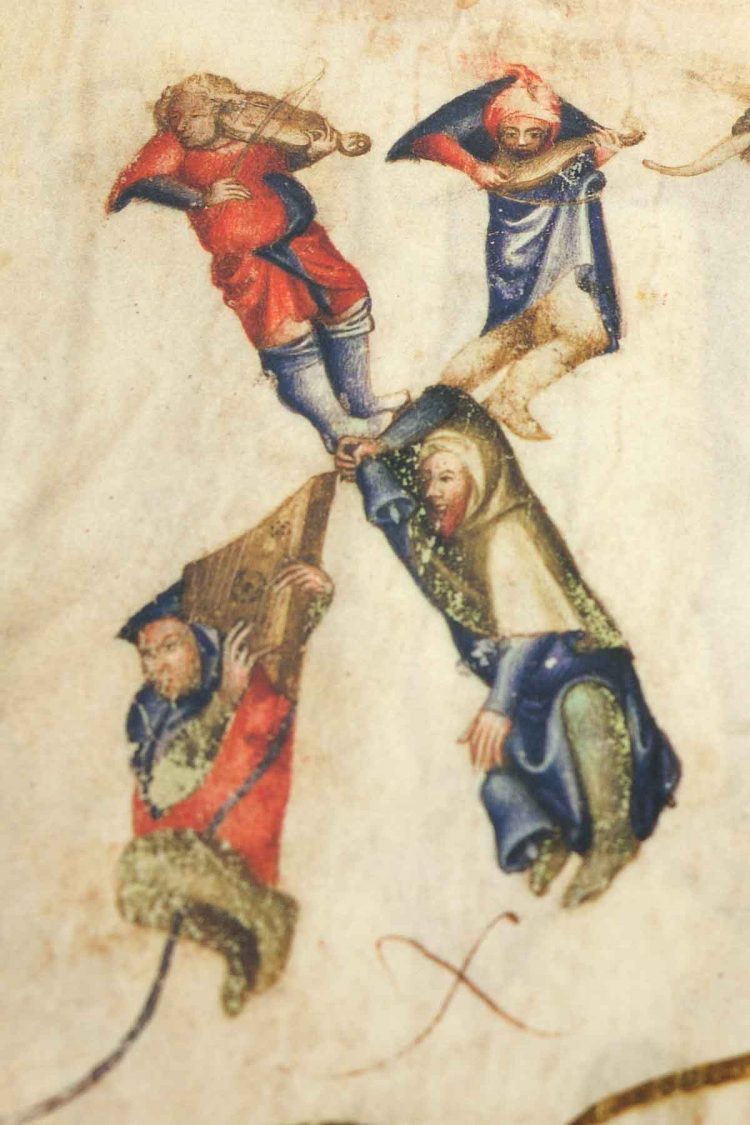 The famous alphabet of Giovannino de Grassi can also be found on five extraordinary sheets of the model book. The Gothic letters, perfectly executed by the master himself, are formed from humans and animals alike.
A Model and a Forerunner for Generations of Painters
At the height of his career, Giovannino de Grassi kept in close contact with the most famous architects of the Central European Gothic cathedrals, such as Heinrich Parler and Ulrich von Einsingen.
This strengthened his position and probably also prompted him to make drawings through which he documented his creative solutions. Grassi's work as a leading engineer at the Milan Cathedral, as a draftsman, planner, and sculptor in the last decade of the 14th century, distinguished him as a skilled and versatile artist.
He was open to the influences of contemporary European styles and at the same time an effective innovator and forerunner of Italian art immediately before the transition to the Renaissance.
---
NEW WEEKLY VIDEOS
Find our more about Echternach Pericopes (Bruxelles, Bibliothèque Royale de Belgique) on our website!
Find our more about Prayer to the Virgin (Verona, Biblioteca Civica di Verona) on our website!