Medieval artists knew how to have fun with manuscripts, so celebrate St. Valentine's day taking a few minutes to enjoy the Chansonnier de Jean de Montchenu.
A nice fitting binding is so much better than loose pages, but what is even better is if the shape of the manuscript is somewhat quirky, peculiar, unexpected.
Now, those of us who picture the Middle Ages as a dark and gloomy time characterized by close-mindedness, fear of the unknown, and religious interpretation of every aspect of life, will be baffled to find out that this is only partly true.
Indeed, the Middle Ages with all of their flaws and misconceptions have given life to some of the most exquisite, interesting, and unusual manuscripts of all time, and this is certainly all the more admirable considering that the creation of these masterpieces ran parallel to a pretty conservative view of the world.
Throughout the Middle Ages artistic geniuses thrived leading to the creation of unparalleled works of art, not only for their contents but also for their curious shapes.
Today, in occasion of Valentine's day, I am going to show you the Chansonnier de Jean de Montchenu, and I'll provide you with a little bit of background just to tickle your fancy. I say in occasion of Valentine's day because the manuscript is shaped like an heart, which to many might look cheesy but they are just jealous! Who would not want to receive a heart-shaped book?
When you open it, yo'll notice the shape of a butterfly, which already in itself looks awesome, but to make it all the more cheesy, you'll find that it contains forty-four polyphonic chansons (thirty in French and fourteen in Italian), written by such notable composers as Guillaume Dufay, Johannes Ockeghem, and Antoine Busnois.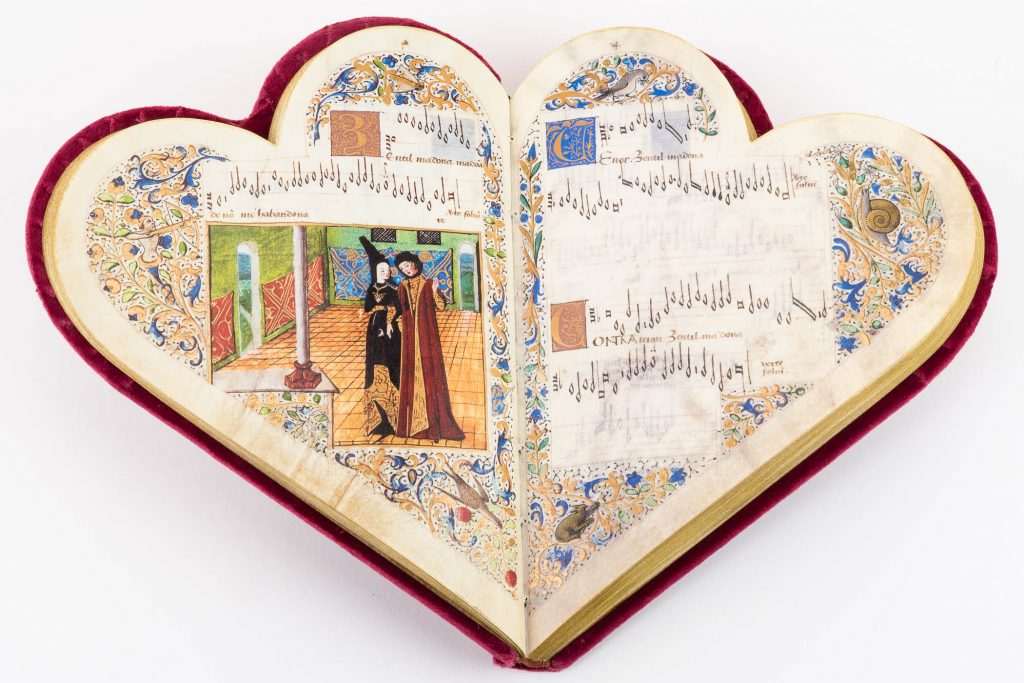 The manuscript – featuring gold-flecked initials, and fantastical flora and fauna – contains only two full-page miniatures, one of which shows a young woman whose breast is pierced by one of Cupid's arrows
The date of creation is not clear, but it appears it was made between 1460 and 1477, commissioned by Jean de Montchenu, who must have had quite a reputation as a gallant.
So why not be a gallant yourself and get your Valentine a facsimile edition of the Chansonnier de Jean de Montchenu?