The jokes played by the young Limbourg Brothers, the Duke's exotic animals… In this imaginary interview, the Belles Heures of the Duke of Berry told us what it means to be one of the most cherished manuscripts in the whole world.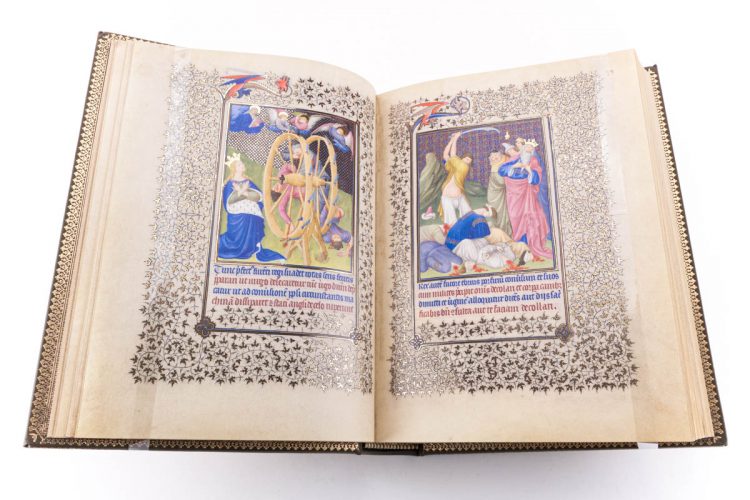 Belles Heures, what makes you so famous?
Do you mean, apart from the 172 illuminations, seven picture cycles, and hundreds of golden ivy leaves? And the fact that I contain the first traces of atmospheric perspective in northern European art?
Well, not to brag, but among all the manuscripts decorated by the Limbourg Brothers, I am the only one that was painted from beginning to end, and also the first one that Jean, Duke of Berry, commissioned from them.
My little brother, the Très Riches Heures, might be more acclaimed, of course… But I came first. And he can't take that away from me.
Can you tell us about the Limbourg Brothers?
They were so young when they decorated me! So joyful, yet so earnest. In my six hundred years of life, I have never met anyone as bright as them.
They couldn't have been older than nineteen when they made me, but when I watched them apply the gold leaf onto my borders, I could tell they knew how to work with gold, even without hearing their talks about the goldsmith who hired them as apprentices in Paris.
This doesn't fully explain their genius, of course. That's still a mystery, even to me.
At dusk, the golden objects in the Duke's library shimmered like a thousand fireflies
But they were not just the most gifted artists of their time, mind you. They were also enjoying their youth! Paul, the oldest, was always trying to stop Herman and Johan from playing jokes. In the winter of 1411, they managed to hide from him, and built a fake illuminated manuscript. It looked like a wonderful codex, but it was just a big piece of wood!
It would have been embarrassing enough like that, but guess what they did? On New Year's Eve, they walked up to the Duke and gave him the fake manuscript as an étrenne, a New Year's present! That night I would have covered my eyes, if only I had hands.
Everytime I see teenage visitors in The Cloisters I cannot help thinking about Paul, Herman, and Johan… Sometimes I wonder what they would say if they knew that the internet preserves so much information about their art. And would they be able to find me on this interactive map?
Did you enjoy being in the library of the Duke of Berry?
It wasn't just a library, it was a treasure trove. Between dusk and the moment when the maids lit the candles for the evening, the gold in the jewels, altars, gems, and sculptures shimmered in the dark like a thousand fireflies. It used to make me almost sad when the candles were lit, because I knew that wonder was over.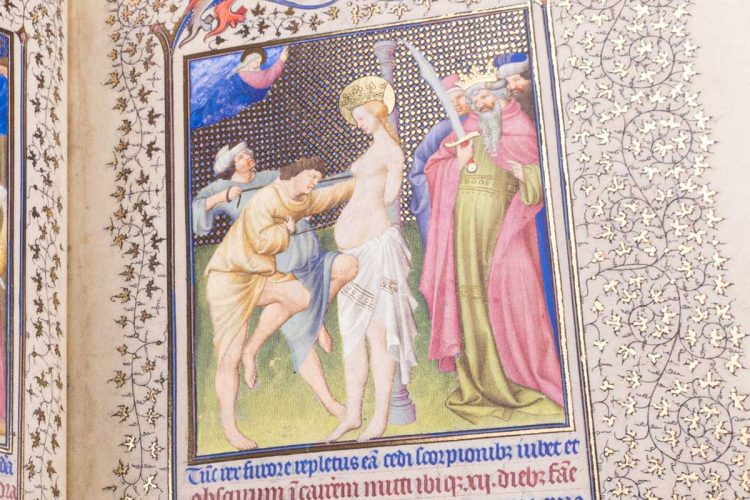 Let me tell you something in confidence: I had a special friend in the library. We sat next to each other, cover to cover, for as long as I can remember.
Her name is Hours of Jeanne d'Evreux, and she was so marvelously painted by Jean Pucelle. She's kept me company at the MET museum for decades, but now she is in a temporary exhibition, and I can't wait to have her back!
And while we're at it, I might as well take another load off my chest. What I really don't miss at all are all the squeaks and rattles of whatever animals the Duke had bought during his extravagant life.
You all know he had 1500 hunting dogs, I'm sure, but did you know he kept camels, leopards, and monkeys in his manor, too? The noise of the monkeys is what makes me really appreciate the silence in The Cloisters today.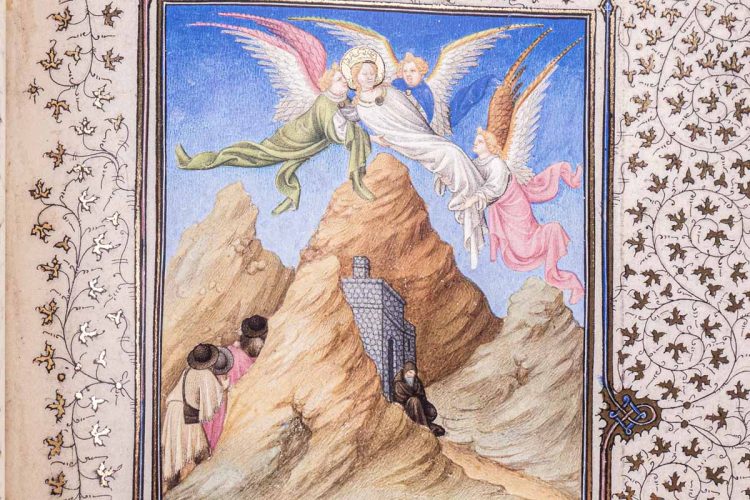 Do you miss the company of your brothers, the Très Riches Heures, the Petites Heures, and the Grandes Heures of the Duke of Berry?
See, you're probably so young you don't know the ways of the world… So I forgive your naivety, but I must tell you: that's not a question you ask just like that!
As much as I love my brothers, it's been hard to handle the competition
Can you imagine the pressure I felt growing up as one of the most cherished and precious manuscripts in the whole world? It was never easy to deal with the competition among me and my brothers.
The Grandes Heures' cover used to be scattered with precious gems, stones, and pearls, the Petites Heures has the most magnificent rinceaux, and the Très Riches Heures, well, it is one of the most famous books in the whole world. How can I not feel the pressure?
Believe me when I tell you, I'm not at all disappointed to be the only one in the family to be preserved in the United States instead of France. Here, people can admire me in all my splendor. Just me.
How do you feel about facsimiles?
You know, I really have been all over the world in the past sixty years. The MET museum staff have taken me to London, Germany, and even back to my hometown, in Paris. I can't say I don't enjoy it, but it sometimes means being broken down into pieces. Literally.
In 2008, eighty of my miniatures were displayed at the Getty Center, and in the summer of 2012 forty-seven of my leaves were exhibited at the Louvre, following which I was finally rebound. Why do I say finally? Well, how would you feel if little parts of you were scattered all over the planet? Of course it's flattering, but it also feels slightly disquieting.
A positive thing about progress, technology, and all those things humans have been so proud about for the past century, is that they have managed to make almost-identical copies of art objects. Thanks to facsimiles, people can finally study me without breaking me into pieces. Maybe it will help them realize I'm not so unworthy compared to the Très Riches Heures.
NEW WEEKLY VIDEOS
Find our more about the Travel Notebook of Vincenzo Scamozzi (Vicenza , Musei Civici di Vicenza – Gabinetto dei Disegni e Stampe) on our website!
Find our more about the Prayer Book of Anne de Bretagne (New York, The Morgan Library & Museum) on our website!