A little (medieval) fiesta never killed nobody: follow us for a trip into the Catalan Mahzor, a unique prayer book from the second quarter of the fourteenth century. Spoiler alert: contains stunning micrographies.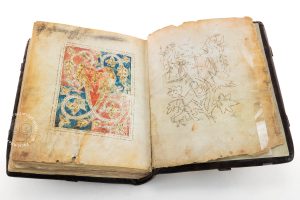 The Catalan Mahzor (Jerusalem, National Library of Israel, Ms. Heb. 8°6527), a prayer book containing works by some of the most important Hebrew poets of the Golden Age of Spanish Jewry, was completed approximately in 1280.
Alongside prayers and poems, it contains 59 pages of intricate micrographies depicting exquisite hunting scenes.
Micrography derives from the Greek minuscule writing, and it can be defined as the art of creating pictures and designs out of tiny written words. This technique was first developed by medieval Jewish scribes, who believed only the word to be sacred enough to become material out of which images could be created.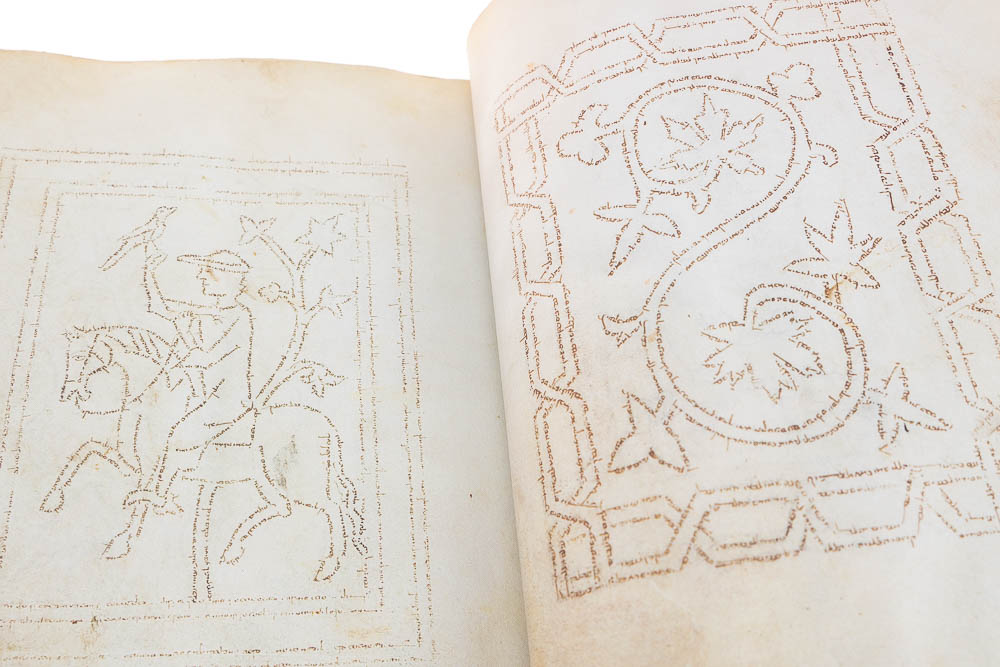 The earliest manuscripts decorated using this unique art are oriental Bibles dating back to the 10th century.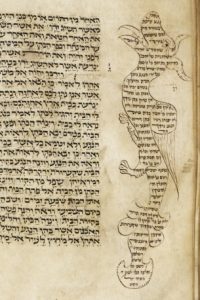 The actual content of the texts used to form the micrography is usually drawn by the Masorah (literally: the tradition), a notation system generally found in the margins of Hebrew Bibles and referring to notions like precise spelling of words, proper pronunciation and accentuation
Looking back to the origins of micrography, researchers have found similarities with some writing practices found in manuscripts of Classical literature. Specifically, with Carmina figurata figured poetry.
Carmina figurata appear in Classical antiquity and are used to create the visual equivalent to a poem's actual textual content. This technique and micrography hence appear to have the same roots, but some differences between the two lead us to believe that the latter is an evolution of its Classical ancestor.
In Carmina figurata, the text fills the image it creates, whereas micrography only traces the outline of the form. There are very few examples of micrographies where their content is relevant as compared to the image outlined, whereas the textual content of Carmina figurata is always linked to the picture they form.
Micrographies are a true work of art and precision, and as we try to picture medieval scribes at work, we can't stop flicking through the Catalan Mahzor facsimile that was just delivered at our doorstep. The limited edition of 25 copies makes it even more special.
But the texts are not the manuscript's most individually striking features. Numerous pages are adorned with some of the most elaborate and detailed micrographic images found in any Hebrew manuscript.
We want to take a look at its illuminated pages just one more time before letting it fly into your careful hands, so that you can also admire its hand-gilt golden details (with a 23 carat gold leaf) and feel Catalan Micrography Mahzor's precious pages.
To make sure you are one of the lucky 25 owners of the limited edition Catalan Micrography Mahzor facsimile edition, go check out our gallery!